SCOWL + Militarie Gun + Big Laugh + Dead 2 Rights
October 14 @ 8:00 pm

-

11:30 pm

MDT
Scowl to play an all ages show in Boise on Saturday, October 14th at the Shredder
Duck Club & Underdogs Present
SCOWL
with Militarie Gun, Big Laugh and Dead 2 Rights
Saturday, October 14th
at THE SHREDDER
$20 adv / $25 door
7:00pm doors / 8:00pm show
ALL AGES
Scowl
Scowl – Psychic Dance Routine
April 7th, 2023 – Flatspot Records
Scowl is Kat Moss (vocals), Malachi Greene (guitar), Bailey Lupo (bass), Cole Gilbert (drums), and Mikey Bifolco (guitar).
Scowl has quickly made a name for themselves as one of the most vivid and hard-working acts in the rock world. Since the release of their debut album, How Flowers Grow in late 2021, the band has become a powerful force to be reckoned with. Lauded for its reality-driven, aggressive blend of hardcore-punk, the critically-acclaimed album opened up new doors for the band, including a non-stop touring schedule. As new music began to take shape, it was no surprise that experiencing most of their lives on the road would greatly influence the next phase of Scowl.
Enter Psychic Dance Routine.
Since forming in 2019, the band has consistently eschewed being pigeon-holed, moving far beyond the confines of what a typical "hardcore" band is considered. Floral motifs lace their artwork and merchandise, they've notably toured with diverse acts like Limp Bizkit and Destroy Boys, and one of the most talked about tracks on How Flowers Grow was a melodic number with a saxophone solo. On Psychic Dance Routine, Scowl continue to push the boundaries of their sound and artistic presence, now laying somewhere between hardcore and alternative. As the band puts it, "it's like Negative Approach meets The Breeders."
In September 2022, the Santa Cruz, California band traveled to Pennsylvania to seclude themselves in the studio for a week, recording with Grammy-nominated producer Will Yip at Studio 4. Working with Yip was a completely collaborative experience as he not only brought life to these songs, but greatly encouraged Kat Moss as she worked on her elevated vocal style found across the record. The highlights and challenges of performing, whether in the studio, on tour, or in the act that is life, became a recurring notion on the five track EP.
As Moss states; "I chose to revolve the main theme around performance. This is both literal and figurative, as the band has been on tour practically all of 2022. My perspective of being consumed as the version of myself that is 'performing' has shifted dramatically, while simultaneously grappling with the experience of being a feminine artist in a world that doesn't always take you seriously."
Lead single "Opening Night" sets the stage marrying edgy melodies with dynamic riffs. Stylistically, Scowl evokes the same feeling as first hearing bands like Sonic Youth and The Strokes, making sounding cool seem almost effortless. "Shot Down" encompasses the battle of fear versus confidence in both lyrical and sonic form, as the band teeters between circle-pit ready moments and sugary hooks. The most vulnerable and pivotal moment of the EP comes in the title track "Psychic Dance Routine." Moss and the band emphasize their capability of writing a striking indie-alternative song filled with breathy vocals, lush melodies, and a fundamental introspective for the entire release.
"​​The best way I can define Psychic Dance Routine is that it represents the mental gymnastics or 'dance routine' one might have to participate in order to telepathically project their feelings or emotions to another person because they no longer have the ability to express themselves with words" comments Moss on where the title derives. She concludes, "The overarching theme of this EP lies heavily in the definition of the name— I wanted to lyrically express feelings of alienation and loneliness as well as questioning my own reality. I made an effort to speak more with metaphors as I wanted these topics to be relevant to other people."
On Psychic Dance Routine Scowl has exemplified their ethos of being true to themselves through creating innovative song structures and personable lyrics. Their ability to be genre fluid intersects with their up for anything attitude, whether that means playing in a fast food drive-in parking lot or hitting the stage at Coachella. It's all just part of the plan for the ever-evolving band that is Scowl.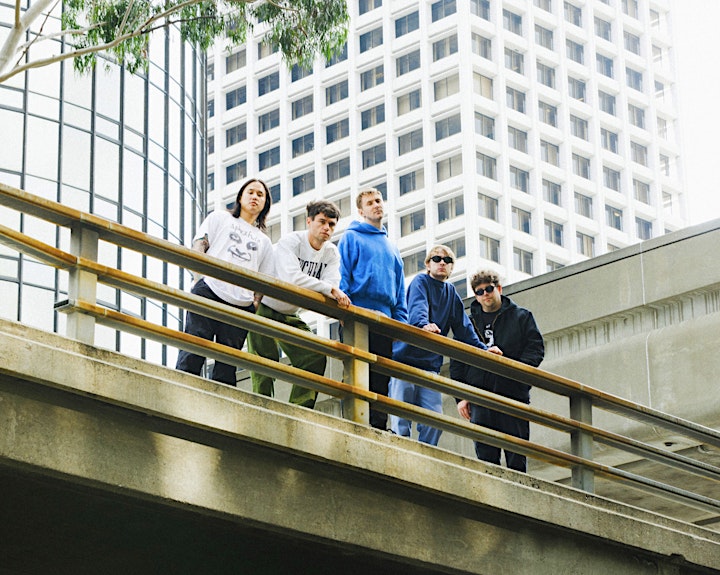 Militarie Gun
Militarie Gun can't be stopped. In just two short years since their inception, the Los Angeles-based group have been turning heads with a menacing-yet-melodic sound that's impossible to ignore and a creative drive that borders on obsession.
Formed in 2020, Militarie Gun is defined by the musical restlessness of vocalist/mastermind lan Shelton. "I've always been the kind of person who's very compelled to do things," he explains. "Everything suddenly becomes urgent, and that's how I feel about songwriting it's just something I have to do when the inspiration comes." The band-whose lineup has expanded to include guitarists Nick Cogan and William Acuña, drummer Vince Nguyen, and bassist Max Epstein-draw on a wide range of influences to make something that sounds combative yet accessible, and undeniably their own. There's the unhinged guitarwork of Born Against, the propulsive cadences of hip hop, the up-front bass of Fugazi-and most importantly, the hooks. Militarie Gun's songs are instantly memorable, employing a melodic sensibility that's just as informed by the work of Robert Pollard and Paul McCartney as it is by Black Flag.
All Roads Lead To The Gun (Deluxe) marks the culimation of the group's first two years but the 12 songs make it clear that Militarie Gun's caustic-yet-catchy sound can't be easily contained within just hardcore or pop songwriting. This is an ever-evolving band can go in any direction they might want-and Militarie Gun are just getting started.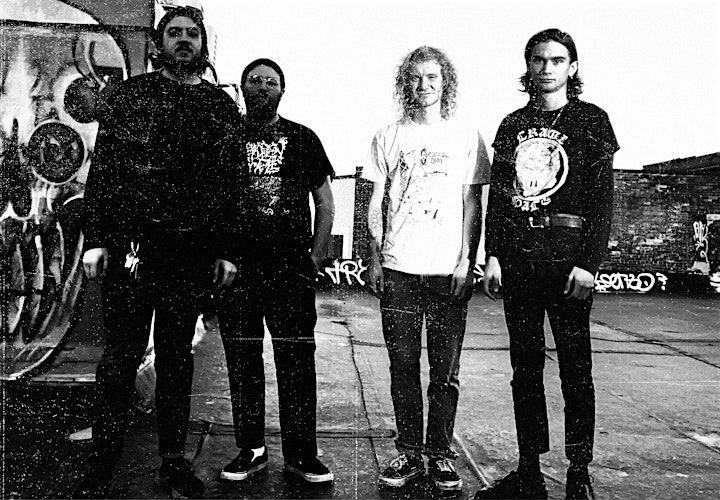 Big Laugh
Even if you don't have your finger on the pulse of contemporary hardcore, you've likely heard of Milwaukee's reigning champs, Big Laugh. After a self-released demo in 2019 and a 2020 7" (Manic Revision) on 11 PM Records, 2023 saw the release of their debut LP Consume Me via the legendary Revelation Records. While the isolation of 2020 and 2021 washed out the weak, Big Laugh returned to the fold like a honed blade, sharper than ever.
Landing somewhere between the untethered mania of first wave hardcore freaks like United Mutation and YDI, the floorpunching fury of late 80s NYHC luminaries like Breakdown and Rest In Pieces, and even the odd burst of patented D.C. melody a la Rites of Spring, Big Laugh are one part combat boot and one part Air Jordan. As self-professed "punks who listen to Judge", the band manages a tight rope act that lesser groups would never even attempt. Underpinning these sensibilities is a masterful ear for hardcore songcraft that translates just as well to the car stereo as it does to a basement full of rabid mutants tearing each other apart. But, like all quality hardcore acts, Big Laugh is best experienced live—As exemplified by the crushing, razor sharp performances on their winter 2023 run with fellow up and comers Gel.
In a sea of pale imitations and trend hopping opportunists, identity is a precious commodity, and Big Laugh has it in excess. Whether you're a sentient studded bracelet or a semi-conscious embodiment of a Lockin' Out hoodie, Big Laugh's got the goods.