Rise & Release: PRIDE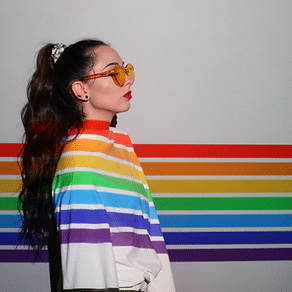 Rise & Release: PRIDE Edition
Thursday September 8 – 10am-noon Ages 18+
Each month we hold space for various groups to share and process emotions together in our art classroom with low-cost expressive art classes. Together we'll allow our feelings to rise through writing prompts and discussion. Then we'll create a guided personalized group project to as we allow the opportunity to reflect and release these emotions from our bodies with large body movements and heavy intention. Participants are welcome to share their experiences openly or process privately through the art-making process. These classes result in a sense of shared community while producing beautiful artwork as a team. No art experience is necessary as we will be focused on the process over the final product. ALL are welcome.
September is Pride month in Boise so it seems only natural to invite our LGBTQIA+ Family for this very special event. Whether you're processing feelings from a difficult coming out story acts of discrimination and/or violence navigating the search for an ideal partner or any other relatable or personal journey we invite you to join us for this very special day of rising and releasing together.
This class is facilitated by Candy Canning (she/her) and Sam Guenthner (she/her) both professional queer artists and fierce equality advocates.
All supplies are provided. Water bottles are encouraged and layered clothing is recommended as temperatures in our large building may be difficult to control. Special accommodations are available and can be requested when booking. This class may be cancelled/rescheduled if a minimum of 5 people is not reached. We'll reach out via email in that case.
This low-cost class is made possible by generous donations made to our Art Start Fund and scholarships are available. If you'd like to support programs like this visit our sponsorships page to make a monthly or one-time contribution. Thank you for helping us hold space for (y)our commUNITY!
Related Events