Boise Death Cafe
September 16
@
6:30 pm
–
8:00 pm
MDT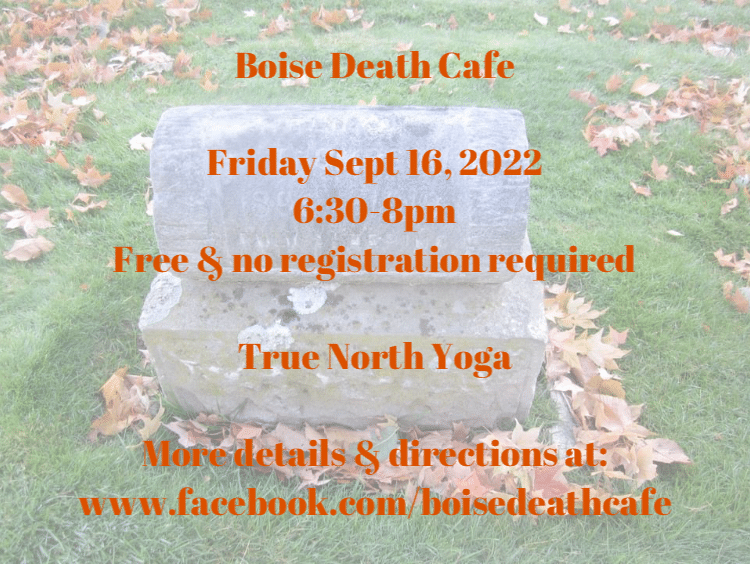 At a Death Cafe people, often strangers, gather to eat cake, drink tea and discuss death. Our objective is 'to increase awareness of death with a view to helping people make the most of their (finite) lives'. A Death Cafe is a group directed discussion of death with no agenda, objectives or themes. It is a discussion group rather than a grief support or counselling session.
Our Death Cafes are always offered:
– On a not for profit basis
– In an accessible, respectful and confidential space
– With no intention of leading people to any conclusion, product or course of action
– Alongside refreshing drinks and nourishing food – and cake!
The first Death Café was started in the UK at creator Jon Underwood's house in Hackney, East London in September 2011. The Boise Death Cafes were started by Joyce Harvey-Morgan and Susan Randall in 2014 and we are excited to be celebrating our 9th year running several Death Cafes a year with new organizers Amy Pence-Brown and Tammie Sherner. Our autumn 2022 Death Café will be held Friday September 16, 2022 from 6:30-8:00pm at True North Yoga in Boise's North End.
The Boise Death Cafés provide an opportunity for an open conversation about death. Experienced facilitators, including death doulas, nurses, hospice workers, writers, death historians and end of life planners will guide the process. Come join the conversation and please bring your curiosity, your interest and your experiences. All are welcome and invited to participate! Free to attend and no registration required.
Address: True North Yoga
9600 Hill Rd, Boise, ID 83714
1512 N 10th St, Boise, ID 83702
Please park on the streets where allowed or for free and ease at Longfellow Elementary School between 9th & 10th on Sherman. Bring a camp chair if you wish or you can borrow a cushion or blanket to sit on the floor of the yoga studio. Cookies and tea will be served! More information can be found at our Facebook event.
FOLLOW US:
Official website: www.deathcafe.com
Facebook: www.facebook.com/boisedeathcafe
Email: deathcafeboise@gmail.com
Contact:
Amy Pence-Brown, Organizer